A collaboration amplifying the need for nature conservation and climate action
kHyal: concept, creative direction, wearable art and streetwear design
Karl Heine: photography
For this project, kHyal and Karl collaborated to produce photography-based textiles for kHyal's #ArtAsFashionAsArt streetwear brand MEGAGLAM.
kHyal routinely walks the local beaches near their home collecting washed-up or forgotten plastic toys and objects, often joined by Karl, who photographs the objects in situ and documents the work. kHyal also uses the found plastics to create artworks exhibited in galleries, art fairs and museums.
kHyal's lifelong sustainability practices span art, design, nature conservation and climate action. She is active in local horseshoe crab rescue and a member of the Plastics Polution Coalition. In 2022, she was invited by best-selling author Seth Godin to work on The Carbon Almanac Network team. Highlights include spearheading the Fashion Sustainability online resource guide, contributing to the LinkedIn Learning course and producing a standalone event as part of a global book signing.
Karl's interests include material sustainability, which he practices via his custom notebook company, DesignerJournals — using eco-friendly recycled Italian leather and post-consumer recycled paper produced using wind power. He also designs lighting by combining scrap metal and plastic with natural materials like translucent stone and abandoned wasp nests.
Since 2007, kHyal and Karl have partnered on reuse initiatives ranging from vintage clothing, design and antique shops, and pop-ups  — to being judges for Hasbro's Project Upcycle design awards and jurors for Material ConneXion's sustainable materials library.
BY 2050 OCEANS MIGHT BE MORE PLASTIC THAN FISH*
In this work, kHyal collected most of the items, washed and sorted them, and asked Karl to independently arrange and photograph a selection she had curated. She then used the digital images Karl created and color-corrected to layout and produce a series of wearable art launched during Art Basel Miami Beach / Miami Art Week 2022.
*Source: WWF.org.uk
A MILLION TONS OF GHOST FISHING NETS ENTER OCEANS EACH YEAR*
For the NET ZERO textile series, kHyal asked Karl to search his archives for ocean plastic imagery of his choice. Karl has documented the coastal areas of Block Island for several decades, capturing thousands of images. He chose a photo of a ghost net they had come across while hiking the remote coastal areas of Block Island, where they have spent time together since 2007, including producing an adult design camp and ongoing design retreats.
Ghost nets are lost, discarded or abandoned fishing nets that pose a danger to marine life that easily get caught in them. The nets are often made of nylon, a form of cheap plastic that doesn't readily break down. Abandoned nets can also damage coral when strong currents pull them through reefs and derail ships by getting stuck in their propellers.
*Source: Earth.org 2020
A SEA OF CHANGE: BELOW THE SURFACE
Nature brings an underwater world of spectacular color with purpose — lifeforms beyond our imagination. Humans have created plastics in a rainbow of supernatural color with a cost, harmful chemicals and dyes that litter our oceans, often below the surface. Though out of sight and out of mind, they wreak havoc on the health of all life and poison our food systems.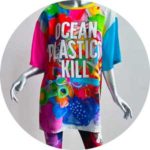 This series of work officially launched at the 20th-anniversary edition of Art Basel Miami Beach during Miami Art Week 2022. At the Art Basel press conference, renowned collector Irma Braman stopped en route to her front-row seat to compliment kHyal on her "Ocean Plastics Kill" ensemble.
"I love this!" 
– Irma Braman
According to Art Basel — Norman and Irma Braman are largely credited for bringing Art Basel Miami Beach to life. They also provided the complete construction funding for the Institute of Contemporary Art Miami (ICA).
SETH GODIN'S RESPONSE TO OUR WORK